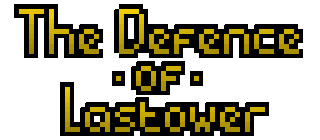 The Defence of Lastower
The second TDOL release! Changes:
Time delay before the first wave starts.
Countdown until next wave only begins once the last enemy of that wave has died.
Keyboard shortcuts (keys 1, 2, and 3) for constructing towers or placing landmines.
Cursor turns into a cross-hair when targeting enemies, and a wrench when targeting turrets for upgrade.
Bonus cogs for completing the wave (350), and bonuses for no turrets taking damage (250).
Files
lastower-windows-alpha.zip
4 MB
Version 0.2.1
Oct 01, 2017
Get The Defence of Lastower