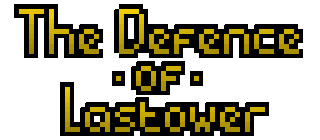 The Defence of Lastower
Here's another bunch of changes going by the name 0.7!
New features

Added new poison tower that does damage over time.
New turret upgrade window.
Turret upgrade options for slowing tower and bomb tower.
Turrets can be sold.
20% buy/sell penalty for turrets bought/sold when a wave is in-progress.
Fixes
Turret range is shown when turret info box is open.
Difficulty level persists when going back to the lobby
Balancing
Basic turrets now fire further.
Bomb turrets now fire a shorter distance but do more damage.
Upgrade costs increased.
Difficulty levels changed to -50%, 100%, 200% and 300%
Files
lastower-windows-alpha.zip
4 MB
Version v0.7.0
Feb 04, 2018
Get The Defence of Lastower