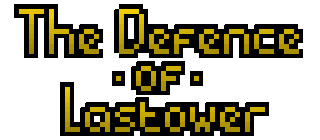 The Defence of Lastower
New features:
Added difficulty option in game lobby.
New turret upgrade window.
Turret upgrade options for slowing tower and bomb tower.
Fixes:
Turrets occasionally lost their targets.
Spitter enemies would get confused and lose their targets also.
Shooting mechanism now allows continual fire on a single mouse click.
Connection errors now result in an error being displayed instead of silently dying.
Balancing:
Everything. All enemies and turrets have had their damage, HP, cost, and upgrade XP values modified.
Files
lastower-windows-alpha.zip
4 MB
Version v0.6.1
Jan 13, 2018
Get The Defence of Lastower